Acne Laser Treatment
An Option to Removal of Acne Scars
Those suffering from shallow and deep acne scars that have tried natural remedies or topical creams to treat acne and have failed may want to consider acne laser treatment as an option.
Watch this video to see an Acne Laser Treatment being performed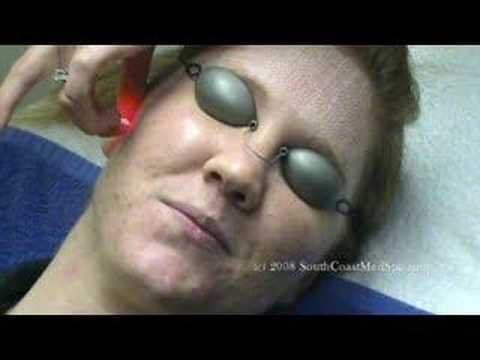 This process is not recommended for someone who is currently suffering with active acne as this can possibly make your situation worse, however, this procedure can be quite effective treating scars resulting from acne.
It is imperative to consult with a dermatologist before considering this procedure. It is possible that there might be some alternatives available that eliminate your scars without going through this process. Also make sure that you have given those options time to work for you. Some people try a remedy and if there are no results in the first couple of weeks will give up. Healing scars takes time and consistent effort to be effective and acne laser treatments are no different.
If you and your doctor agree that this process would be in your best interest, here are some things to consider before having the procedure:
Typical healing times are measured in weeks, however, in some cases it is possible that your results will not be complete for months.
This procedure is costly and not all insurance companies will cover your cost. Make sure to discuss this with your doctor and ensure that you know the full amount that you will be responsible for.
Depending on the severity of your acne scarring, many visits may be required in order to effectively treat your scars with the possibility of having to wait weeks or months before each follow-up visit. Patience will be a virtue during this time period, but hopefully the results will be well worth it for you.
Since this procedure actually heats up the top layer of skin and removes it, you may experience minor irritation and redness, much the same as a sunburn would cause. It is possible that this will go away after a few hours, but more likely will last from 7-10 days.
The good news about acne laser treatment as an option is that it is relatively painless overall and can be extremely effective for the right person. Only you and your dermatologist will know if you are a good candidate for this procedure, so make sure to discuss your concerns carefully before deciding if this treatment is really what you need or want.